(Click a 'button' or continu reading)
News! (december 2021):
Spring 2022 the Laagland Ensemble will play four concerts in Theater De Omval in Diemen (NL). On saturday-afternoon (somtimes on sunday) we will play and have guests, who will have the stage as well.  Musical encounters of traditions and instruments.  'All World-class'!
Who, what, when is still to be decided. Keep an eye on the agenda! The first edition will be: saturday, february 19th.
News: (May 2021) LaagLand Ensemble presents: 'Tarogato & Accordeon".
A project that will present this combination of instruments in a variety of tunes of very different origin: Greek, Armeninan, Klezmer, Rumanian, Hungarian, etc .
-> click here for more info
->  tracks (on Soundcloud)
-> video and sound (on Youtube)
and follow us on facebook.com/laaglandensemble
The tarogato means to me a non-stop-discovery journey and a source of great pleasure. I could obtain one in the early nineties. It stayed in its case for quiet a while, it took a long time to find out how special this instrument is. And what it had (has!) to offer me. At first it was really difficult to find information or material to listen and study. The 'fall of the wall' and the introduction of internet brought change to that.
It lasted untill the end of 2014 before I really started to play and learn.All these years my Stowasser, made in Budapest about a century ago, rested in its case. A challenge I could face again after 2014. Meeting the right people and attending festivals in 2015 and 2016 in Hungary gave a real boost! So dit this years edition (2021) of the 'Intrnational Tárogató Conference' in Vaja, Hungary.
About the tárogató | taragot  
This instrument, in Hungary called 'tárogató' and in Rumania 'taragot', is a relative young instrument. At te end of the 19-th century it was develloped bij instrumentmakers in Budapest. There used to be an archaic ancester, with the same name. That is a double-reed, swahm-like horn, related to the Turkish Zurna.
The instrument we call 'tárogató' today – also called 'reformed tárogató' – is in fact a wooden copy of the soprano saxophone, which was invented half a century earlier. Intonation, size and the way it is played are basically quiet similar. Big difference: the tarogato is made out of tropical hardwood (often Cocobolo / African Rosewood), where the sax is made out of metal (copper).
The tárogató has never, like the saxophone did, found its way to classical-, jazz-, windband- or pop-music, and conquerred the globe.
In the course of the 20-th century however, it has become an important instrument in Hungary and Rumania and bordering regions in the traditional music of those countries and regions. After a discouraging policy during the communist period, the instrument is now regaining popularity in Hungary. In Rumania the state encouraged the use in popular music. In Hungary it is recently proclaimed to be 'National Heritage'.
The richness and variations in sounds that can be poduced by the tárogató is incredible. It can be played melangcolicaly, harsh, velvet, lirical, fast staccato, etc. Somewhere between clarinet, hobo, sax and the english horn perhaps, one could imagine the sound of it. The characteristics of this instrument, its mouthpiece, the style of playing, and of course the capabilities of the player make every taragot produce a unique sound!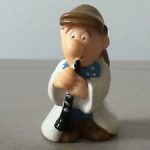 About musician Jan Rijnierse
I consider myself a do-it-yourself musician: on my 26th I bought a sax. I thought it was time to do something nice… Without any history in music and with incidental lessons I found my way on the sax. Important factor for me: I found relatively fast a connection with a professional 'playing-field'.
The participation in projects of Dogtroep and street-theater groups was very stimulating for devellopping my musical potential. A variety of bands, theater groups and projects followed over the years and I got in touch with different musical idiom, styles, etc.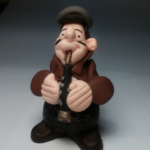 In my part of Europe the taragot / tárogató is hardly known. Only a handfull of musicians play it and even fewer really master it. It presented itself to me when a collegue-musician brought one from a trip to Rumania half-way the 80-ties, I instantly knew, recognized: this sound is incomparable with anything I heard before. The special sound anchored itself somewhere in me, like a lasting desire…
Early 90-ties I had so much luck: I found my tárogató, on an auction in Amsterdam! I knew already that its sound would speak to me, but to get the music out…. was going to take a long time. My effords stranded on hardheaded, archaic character and the relatively simple build, and of course – no doubt – a short of my own capacities…. And also certainly because of a lack off examples. There was none.
Then I found this LP of Dimitru Farcas, tarogot-celebrety in Rumania. Until his passing away in 2018 he has been recognized as GrandMaster of the taragot. In his own country and far beyond. This LP re-confirmed my taragot-destination. But concerts or other examples still were absent.
In october 2014 that all changed, when I attended a concert of Gerrit Boeschoten, great tarogato player. On this occasion I was again confronted: this is my instrument. I even had one already! And I was lucky to meet musicians, with whome I would play together, later. Among them, the Roemanian Ion Micu, professional singer, but for me more interesting: a virtuoso taragot player. Living allmost next door!
That concert, and these encounters stimulated my interest again, and launched this sense of urgence…and made me pick up the tarogato, started to study again. It was a sort of challenge: would it reveil its nature for me, its true character… Now I knew how to make the next steps!
June 2015, in the Hungaryan town Vaja, close to the Ukranian border, the 'international' edition of the annual meeting of the Hungarian Tárogató Association takes place. I'm not sure about what I see: People everywhere with these tarogato-cases under their arm! Hungarians, Rumanians, some Europeans, Americans. A little later: every member presents him- or herself, showing their progression before the assamblee. A two-day parade from beginner to virtuoso. In the programm also concerts and lectures, i.e. about technical developments, or about historic instruments. Builders of instruments and mouthpieces pesented their products. Including a lecture about how a musician should introduce himself to the audience by a very senior member….! Friendship, exchange of music and repeated visits ar common since then.
January 2017, I had the opportunity to play in the Ensemble of Mihai Scarlat, until the orchestra stopped its activities in november 2018. A unique, big ensemble, playing traditional Rumanian music on a high level. I was to play the trumpet-parts on soprano saxbut: for me a fantastic school to learn about the Rumanian musical styles.
Since early 2020 I am happy to work on a programm in cooperation with accordeonist Fred Abbingh.
Summer 2021, I was – for the 2nd time – invited to attend the 5-yearly International Meeting of the Hungarian Tárogató Association in Vaja, Hungary and participate in a concert-tour around the country, following the meeting in Vaja.
November 2021: A 5-day suprise-journey through the Rumania of Dumitru Farcas (+2018). Hosted by his doughter Andreea Farcas and the young taragottist Cristian Totpati, I was introduced to the city of Cluj, his house and private studio, where Farcas lived and worked for a long time, and to the region of Maramures, where he was born and found much of his inspiration. Meeting fine people and playing with great musicians who played along with Dumitru Farcas for many years, i.e. Dorel Rohian en Ghita Radu. Unforgettable and an overload on inspiration…….
July 2022: 'Masterclass Taragot', an initiative of the Fundatia Dumitru Fracas, based in Cluj Napoca in Transsilvania (Romania). De masterclass took place in the village of Breb, Maramures. Teachers were Dorin Cuibariu and Cristian Totpati.  Fantastic, once again very inspiring en teaching. With beautifull other particpants/colleagues Philippe Becherand (France), Anne Grandl (Germany), Samuel Freiburghaus (Switserland), Claudiu Avram (Romania / England) and support from Florin Sima (accordeon), Andrei Hanes (taragot) and Andrei Cuibariu (clarinet). And last, but not least: Andreea Farcas, moving force behind the Fundatia Dumitru Farcas.
Agenda: (please see  NL-version – click here)

CV / Resumé
2020 – …..     -LaagLand Ensemble met programma 'Tárogató & Accordeon' – een duo-programma samen met Fred Abbingh (accordeon)
2020 – …..     -tarogato en altsax in klezmer-swing ensemble Pietsiekata (www.pietsiekata.nl)
2016 – 2018  -sopraan / alt sax (en soms taragot) in Ensemble Mihai Scarlat
Soprano/alto sax (occasionally taragot) in EMS – Romanian traditional music
2014 – …..      -De tarogato / taragot centraal. Focus on táragató / taragot
2010 – …..      -muziek projecten, zzp /klusbedrijf, administratieve coaching startende zzp-ers
Musicprojects, maintenance & constructioncompany, coaching starting small-bussinesses
1999 – 2010 '  -Marketing; publiciteit en zakelijke leiding in theatersector
Marketing, publicity and business management in theatre
1999 – 2001    -Management Culturele Instellingen –PostDoc / HKU Utrecht
Post-doc course Management Cultural Organisations / HKU Utrecht
1985 – …..       -saxofoons – en af en toe tárogató- in De Simpele Zielen, Spice Boyz, Mokum Finef, diverse orkesten, ensembles en bands in div genres ('wereld'muziek, jazz, pop)
-saxes – occasionally tárogató – in a wide range of ensembles, bands .
1982 – 1995    -Theater en muziek ( sax) bij o.a. Dogtroep, Gebroeders Flint,
Musical theatre ( sax) at Dogtroep and other Dutch companies.
1981 – …..        -Saxofoons (sopraan, alt, tenor, bariton, bas)
1956 – * Amsterdam